Skiing is one of the most exciting and exhilarating winter sports. While some skiers stay around snow-filled areas and have easy access to the iced cold slopes, most people need to travel to these ski locations. This means that you will need to find a way to transport your ski gear to your ski destination.
It is, therefore, easier and more convenient if you use a car to reach your ski destination. This is where a ski rack comes in handy. Ski racks are the best way to transport your skis when using a car. These accessories keep your car clean with less mess and clutter.
Ski racks also protect your car against damage. This is because your ski tip and tail end can easily break your window by simply freely moving around in your car.
As an experienced skier, I have used quite a number of ski racks and gathered a wide range of information on ski racks from friends and family who also indulge in the sport. I have personally used most of the models I will list below on my ski trips.
With a variety of ski racks in the market, it is understandably quite overwhelming to make a choice on which pair of ski racks to purchase. I have compiled a list of the 7 best ski racks for your car in 2024.
Let's dive in!
Related: Best Women's Beginner Skis
7 Best Ski Racks For A Car In 2024
What Is A Ski Rack?
A ski rack is an essential easy carry and space-saving solution for transporting your skis. They are sure to aid you in organization and create some wiggle room for you and your family during your ski trips. Some of these ski racks are designed also to hold your ski poles, which is a huge plus.
It also makes it very easy and convenient to load skis on your car and helps you avoid minor car accidents such as broken windows. It also ensures that your skis are well secured and protected.
How Many Types Of Ski Racks Do We Have In The Market?
There are two main types of ski rack that are differentiated by their design. These are the roof top racks and the hitch mounted ski racks. The hitch-mounted racks allow you to carry your skis on the back of your car vertically.
For this type of ski rack, you need to have a hitch mounted. A hanging-style bike rack comes fitted with arms, which will enable you to mount the hitch mounted ski racks. It is not possible to mount a ski rack without one.
The other type of ski rack is the dedicated rooftop ski rack. It is a good option if you do not have a roof rack and love to indulge in winter sports, then this is the perfect choice for you. Ensure that you carefully check the dimensions of your roof ski rack to be sure that they are a suitable match for your skis.
Also read: 7 Best Wide Snowboards
Are Ski Racks Worth It?
Yes, ski racks provide a number of benefits, which you are likely to enjoy. They free up your car's capacity to allow in more people and extra ski gear. Skis are large in size and tend to cramp up car space. You are able to safely and securely transport your skis with the help of a ski rack.
Ski racks also protect your car seats from damage. Skis come with sharp edges and binding that could cause serious wear and tear to your upholstery. The cost of a ski rack is quite high but the cost of your car re-upholstery may even triple this cost. Purchasing a ski rack is therefore a worthwhile investment.
Ski racks also work to enhance your personal safety. This is because any sharp and loose equipment in your car while driving can be quite risky in case of an accident. It is an essential accessory for every skier who uses a car to transport his or her skiing gear.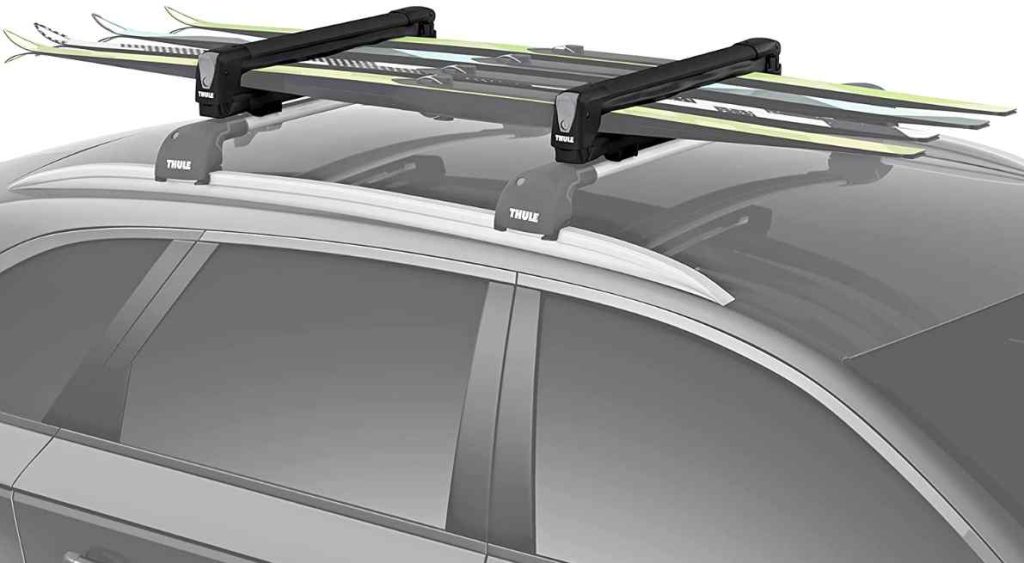 The Thule snowpack ski rack is made using aluminum and plastic and weighs an average of 14 pounds. This is one of the most expensive racks on this list. However, it is worth every penny due to the high-quality workmanship and incredible features it comes with.
This snowpack carries up to 6 skis. This is great capacity even for expert skiers who love to enjoy the sport with friends and family. It is also fitted with an anti-theft locking mechanism for each ski pair or snowboard you carry.
Due to its high quality build, this ski rack though roomy is quite light. The biggest selling point for me was the versatility of this sky rack. It allows you to not only carry ski racks, but can also hold your snowboards and even extra luggage that may not be able to fit in your car. This purchase will provide you with value for your money.
Why Is The Thule Snowpack The Best Ski Rack For A Car In 2024?
The Thule Snowpack workmanship is incredible. It comes with height extensions to ensure that your skis do not chip off your car paint. If this happens, you may have to spend hundreds of dollars for paint work.
It is also compatible with many crossbar systems such as Yakima,Prorack and Inno. This makes it very convenient and functional. It is built to last as its aluminum arms are resistant to corrosion by weather elements.
Related:
This ski rack is the perfect choice for anyone who loves to ski alone or with a friend. It is the smallest rack in this review but it packs quite a punch when it comes to performance and durability. It is built with heavy-duty aluminum, which makes it long lasting.
The rhino rack is only able to hold 2 skis due to its size. I love this rack because it does not fill my roof completely. I am also able to use a cargo roof carrier for my extra luggage whenever I need by utilizing the space left by the ski rack.
The design and construction of this ski rack is also very well thought out. It is UV protected, rust proof and mold resistant. It is made by a reputable company which offers a 5 year warranty to back up its tested and proven brand quality. It is also quite versatile, as I have found a way to use it to hold my fishing rods, kayak paddles and even snowboards in the summertime.
The rack utilizes a latching mechanism for your skis .This setup is very easy to operate even with gloves on which is something you have to appreciate when you are out in the cold snow. Best of all this rack is quite affordable and lets you save some coins, which you can use to purchase additional ski gear.
This is a large-capacity ski rack that is able to hold a maximum of 4 ski pairs. It is the most premium design from the Yakima brand and features a sleek, aerodynamic design that is aesthetically pleasing and produces less wind noise.
The Yakima FatCat is easy to install and pairs well with all cross bars. Its design also allows for easy holding of even the thickest skis in the market. This is aided by its double-joint hinge system. I highly appreciate that this ski rack is a toll-free installation setup.
To improve on safety, this ski rack comes with a set of keys and locks that ensure your gear stays safe when you are on your ski run. It also comes with an OverHang clamp attachment, which provides easy access to your skis. This model is an upgrade of the original FatCat ski rack.
This ski rack is quite affordable compared to the models listed above and boasts of quality construction. I was highly impressed by its quick installation, which can be done in under 10 minutes. This ski rack is very simple and easy to mount on the car roof.
This ski rack lies flat when not in use which helps to cut back on wind noise significantly. It, however, does not lock to the crossbar and hence can be an easy target for thieves.
The rack itself, however comes with in-built smooth operating locks for security. This ski rack is lightweight. This ensures that there is no negative impact on your gas mileage.
This ski rack features the best design in this review. It is constructed using heavy-duty aluminum and rubber material that enhances its durability. It also comes with a sliding design, providing both easy access and sliding in of racks for storage.
It has a large capacity that provides storage for up to a maximum of 6 pairs of skis. It is also fitted with an anti-locking mechanism which ensures that your ski gear is well-secured. It is also very easy to install.
What I love most about the Bouge RV ski rack is its versatility and ability to perform various functions. Besides holding your skis, this rack saves car space by carrying your ski poles and paddles. I even use it to hold my fishing rods without a hassle.
It is compatible with various cross bars and can easily be mounted. Its aluminum frame has anti-rust and anti-corrosion capabilities which make it long-lasting. It also comes with a 1-year warranty which is also a great plus in case of product defect.
This ski rack is able to hold 3 skis. It is pretty compact, measuring a little over 14'' in terms of space covered. It comes with a key and lock system, which helps to secure your ski gear. Its universal mounting system also enhances the ski rack's flexibility, enabling it to accommodate a larger number of ski gear.
The INNO Gravity snow rack features a simple and minimalistic design. It is perfect for people who do not want to stand out in a crowd when skiing. It is, however quite challenging to install and mount this ski rack.
I love its ability to lock to the cross bars, ensuring that your ski gear is secure and won't fly around on the rack causing damage. Its half-sized design provides additional space for extra storage on the car's rooftop.
Retailing at $180, this snow rack is perfect for couples or friends that do not require too much space or have too much gear to hold. This ski rack is made of plastic and aluminum, making it less bulky. It is one of the most affordable ski racks on this list. This rack can also accommodate snowboards, as they have increasingly become a trend in the market.
This rack holds 6 pairs of skis and provides easy access to the ski gear. It is made out of alloy steel material, which gives it a sturdy and durable finish as it is coated with E-coating to make it rust resistant.
The Tyger rack comes with a lock and key set, which ensures your gear, is well secured. It also comes with additional 3 safety straps to secure your gear. This is especially helpful on bumpy terrains.
The rack height is adjustable to provide room for ski bindings and avoid damaging the car's paintwork. Tyger offers a 5-year warranty in cases of any defect which is a factor worth considering during your purchase. You do not want to spend additional cash repairing a ski rack after such a huge investment. The company will help cater for these costs in case of any defects suffered before the warranty period elapses.
Factors You Have To Consider Before Purchasing A Ski Rack
Capacity
The ski rack listed in this review is able to hold between 2 and 6 skis. The number of racks your rack is able to hold is greatly determined by the width of your ski. Generally, if your skis have a broad width and are thick in nature, you will need a larger ski rack.
Measurements
The specifications of a ski rack can be found in the manufacturer's product description guide. The key variables are the length and the height of your ski rack. The height determines the aerodynamics and the room it is able to provide for your ski bindings.
On the other hand, a ski rack's height alludes to how much gear it will be able to hold. Measurements will provide you with an accurate guide of what ski rack will best accommodate your ski gear so you are able to make the right choice.
Design
Ski racks come with different features, your needs and preference will help you settle on the best ski rack. The open and close mechanisms of your ski racks should be convenient and hassle free. This will help you ensure that your ski gears stay safe.
Locks are a fan favorite for most manufacturers. All designs on this review have a locking system to help secure your gear. Only the Kuat Switch 6 Ski Rack lacks a locking mechanism to the crossbar through the rack still comes with an inbuilt locking system.
Compatibility
You need to ensure that your car has the good crossbars that will be able to pair well with the ski rack. You do not want to purchase a rooftop ski rack only to realize that your car is not suited for this option.
Reputable brands such as Yakima will provide you with a detailed guide on their website and help you match your car to the best suitable ski rack on their site.
Weight
The ski rack options provided on this list weigh from as little as a pound to 15kgs. A heavy rack most times speaks to the quality and build of a ski rack.
The weight of your ski rack will also influence the time taken during an installation. The heavier the rack the more installation time needed to mount it on the rooftop.
Quality
Most high-end ski racks with quality build are made using metal in order to offer a sleek stylish finish. This enhances the ski rack's durability. Most affordable and entry level racks are constructed using heavy duty plastic which bring the cost down but are more prone to wear and tear and may not be long lasting.
Ski racks that come with secure rubber grips also ensure a secure hold of your ski rack to ensure nothing falls off from it. It is quite a true and common notion that the quality of a product is directly proportional to its value.
Aerodynamics
The extra weight on your rooftop is sure to generate a drag. The drag results in lower gas mileage and creates more wind noise. Options such as the Kuat switch, however, can cut down on wind noise when not in use as they lie flat on the car's roof top.
Budget
A premium quality design ski rack comes at a very steep price that may sometimes be quite challenging to afford. However, this is not always the case. The Rhino-Rack Mount 2-Ski Rack is an affordable ski rack option on this list that does not compromise on quality.
Versatility
A multi-functional ski rack is sure to provide you with value for your money. You will be able to make use of your ski rack all year round no matter the weather. This is because you will be able to fit paddles, fishing roads and surfboards on your ski rack with no hassle.
Fuel efficiency
A heavy ski rack will result in a high drag for your car and will result in high fuel consumption. On the other hand, a lighter one will not affect the fuel consumption. I advise that you choose wisely depending on your budget.
Mounting position
Not all cars come fitted with cross bars. The height of rooftop ski racks may also not be ideal for shorter people and older folks. You, therefore, need to decide on whether you desire a roof-mounted ski rack or a hitch mounted ski rack as they offer easy accessibility.
There are, however very few options of hitch mounted ski racks in the market. To attest to this, there is only one hitch mounted ski rack on this list of 7.
Frequently Asked Questions
Do Ski Racks Hold Other Gear Apart From Skis?
Yes, you can store skateboards, fish roads and even paddles on ski racks. This is, however, dependent on the ski racks capacity.
Will Ski Racks Damage My Car?
This depends on the design. Great ski racks are designed with adjustable heights. This together with rubber paddings fitted on the ski rack help ensure that the ski bindings do not rub against the rooftop and chip off your car paint.
Do Ski Racks Damage Skis?
No, a ski rack is meant to protect your skis. However, the way you install your ski rack may have a bearing on the skis. A damage can occur if you do not install correctly your ski rack on the crossbars and do not lock your skis to the rack securely.

If this is not done properly, then the probability of the skis falling off your car while it is in motion are quite high. The resultant impact is sure to damage your skis. Positioning your skis correctly on the rack will keep your skis safe.

Wrong placement, on the other hand, may cause your car door to rub against the ski causing delamination. This may easily cause your ski to break.

Your gear is exposed to weather elements while on the ski rack, so it is therefore important that you choose a ski rack that is rust resistant and made of durable material. Always clean your skis as soon as you reach your destination to avoid damage.
Should I Place My Bindings Facing Up Or Down On A Ski Rack?
Depending on the ski rack you choose and the number of skis you want to fit on it, you can place your skis side by side or sandwiched together. If you choose to mount your skis side by side, the ski bindings should face the sky. This will help reduce the wind drag and improve fuel efficiency.

Ensure that the ski bindings face outward with the ski bottom staying in contact. This means that you will have one of the ski bindings looking towards the roof of your car while the other will face the sky. This helps to secure the racking and saves on space.
How Should I Arrange My Skis On A Ski Rack?
Now that I have guided you on the positioning of your ski bindings, let's take a look at how your skis should be placed. It is important that you always organize your skis and arrange them with the tips of the skis looking towards the direction where the car is headed.

They should lie along the roof of your car and not across. This will ensure that the skis are not grazed by the car windows as it could lead to damage. Also, ensure that they lean more towards the windshield than the tail end of your car as it could make opening your latch a challenge.

To enhance aerodynamics, you should have the sharp end of your skis facing the tail end of your car. The streamlined shape will help reduce wind drag as you drive your car. This is, however, applicable if your skis are lying along the roof of your car.
Wrapping up
Ski racks are a favorite accessory for every avid skier as they allow you to easily pack and go whenever you want to have some thrill in the snow. Most of the ski racks mentioned in this review can be used to serve a variety of functions, which is a huge plus. A good example is the Yakima FatCat 4 ski rack.
The top pick in this review is the Thule SnowPack Ski Rack. It is my hope that this review has provided you with the necessary information that will aid in making your choice on which ski rack to purchase. Happy skiing!