Planning a ski trip can definitely be an excellent idea. All the things involved in skiing can make anyone quite excited, and that is what we all love. Not only that, but there are many other things other than the skiing itself that can cheer you up on a ski trip. And one of them is, of course, traveling through the mountains to reach the resort and, of course, back and forth. But have you ever wondered how you would reach the top of the mountain? Well, there are different types of lifts that can help you out, and the most common out of them are ski lifts and a gondola. So what is the difference between them?
The difference between a ski lift and a gondola is that a ski lift can carry around six people at once, that too with a comfortable experience, but the front is always open. Meanwhile, gondolas can also carry 6 to 10 people, that too with a luxurious experience, but is closed from all sides.
Yes, I know, it might still be confusing and tough to decide which one to go with. So let's have a deep look into both of the situations and see how good both of them can be.
Ski Lifts vs. Gondola: Which one to choose?
To understand both of the aspects briefly, we will have to break down the most critical parts. This will allow us to see how reliable both of the options are.
1. Chair/Ski lifts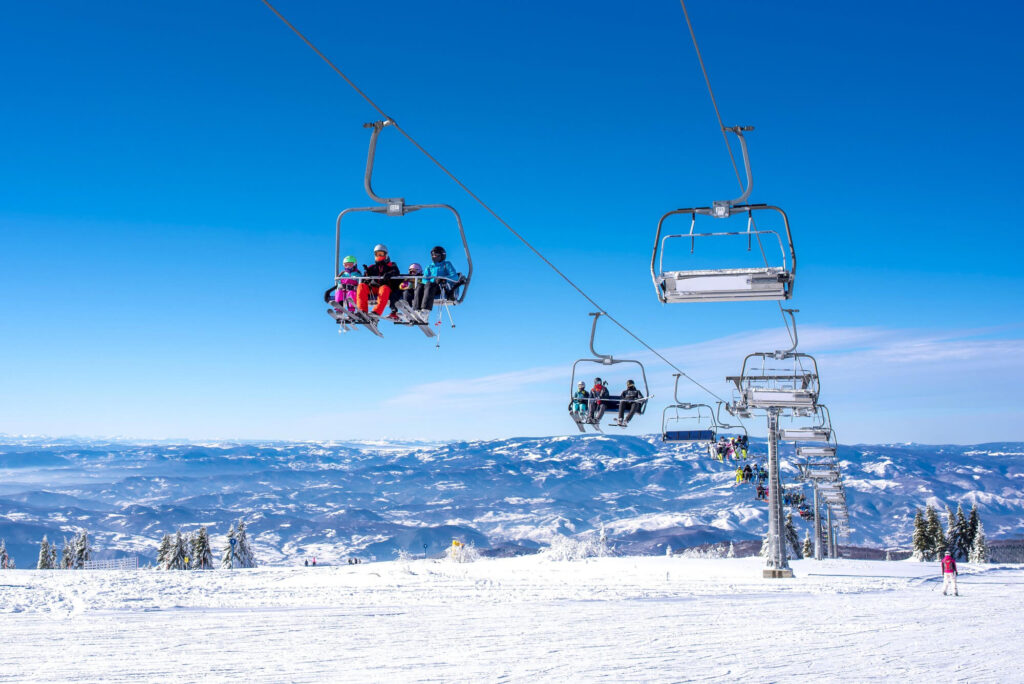 A chairlift is unquestionably one of the most common ways to reach the resort or come back down with ease. Almost every other resort offers the option of a ski lift to be used by the customers for their ease of travel. The reason why most people choose chair lifts is that it can offer those quite impressive views and the sense of natural environment. This is because chairlifts are open from the front or even the sides and back, depending on the design.
How safe are chair lifts?
This can be one of the major concerns for people when using chairlifts. If you are wondering the same, then don't worry, as chair lifts are really safe and sound. For the safety and perfect balance of the people, there is always a metal bar attached to the lift that locks down your legs and offers you ideal protection. You can even hold it to keep yourself calm and enjoy the views.
How many people can use a chair lift at once?
If we talk about how many people can use a chairlift all at once, then the number actually varies quite a lot. There are chairlifts that might only be able to support four people, while there can be chairlifts that can support 8. The whole scenario depends on how big the chairlift is and how much weight it can support without causing any problem. So if you have more than four family members, you might have to use two turns to get your whole family to the top or bottom.
How much weight do chairlifts support?
Again, the whole scenario depends on the chairlift you are actually using. But if we precisely talk about the average, then the weight limit can be anywhere between 250-300 pounds. It is quite enough to carry a bunch of people with ease.
2. Gondolas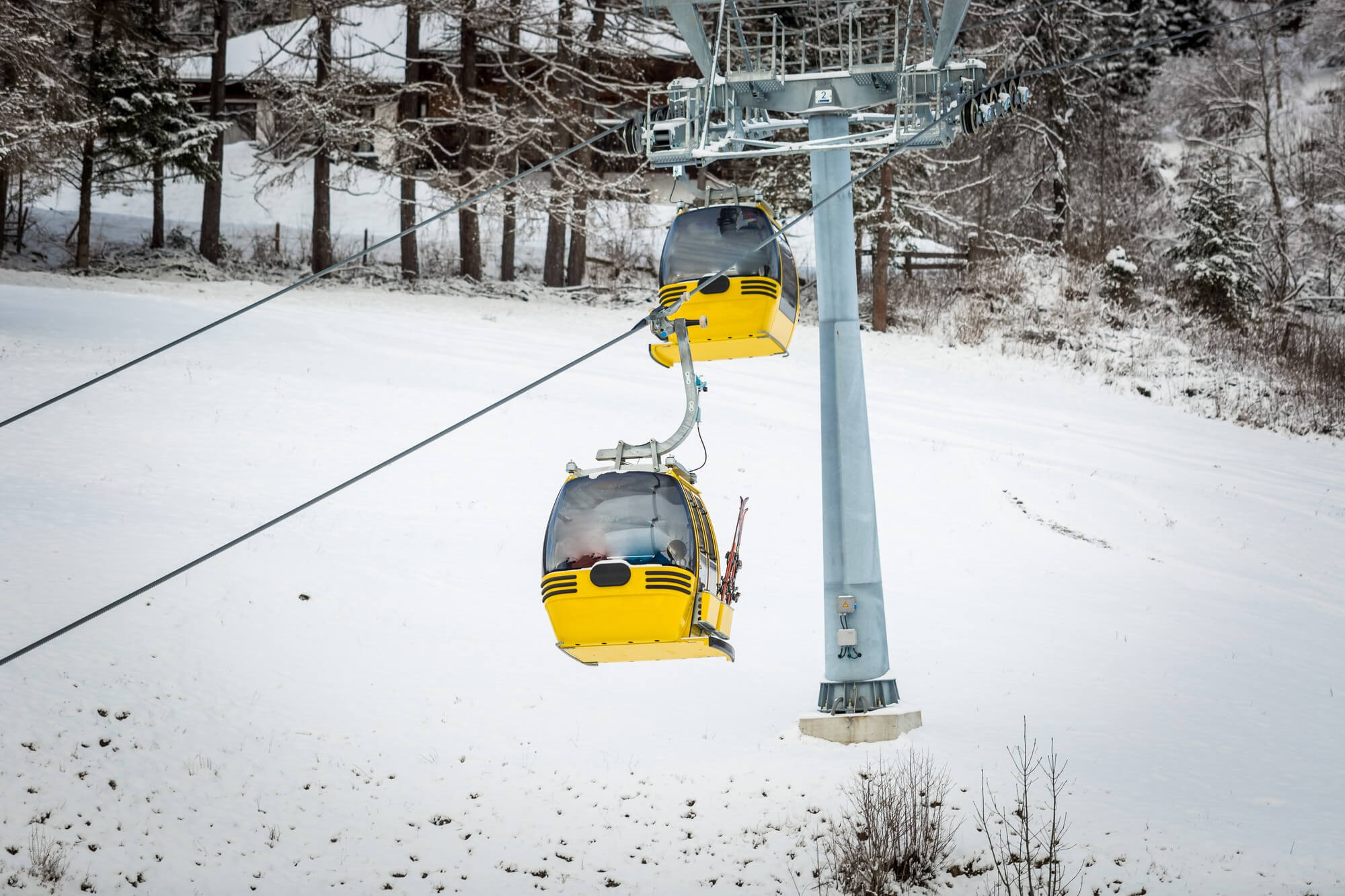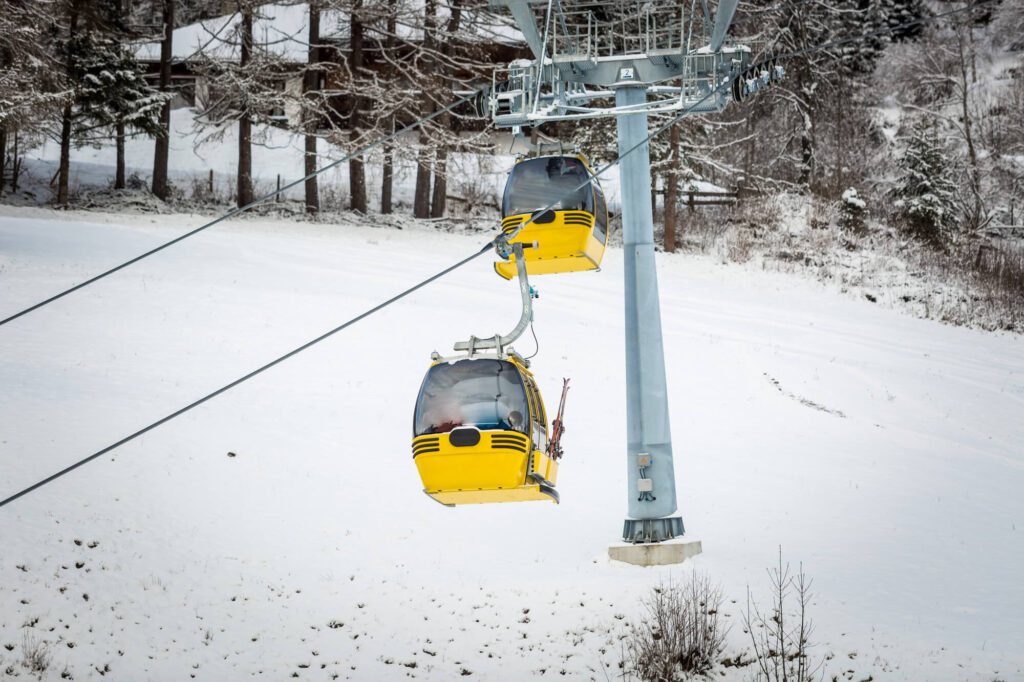 Well, we have taken quite a brief look at how chairlift works along with its other aspects. Let's see what the case with Gondolas is, and if they can offer you the reliability you would want. But as for the overview, gondolas have become quite common in the skiing world due to a number of aspects. Not only that, but people with specific preferences also get the choice to choose any option they want and enjoy the rides way up to the mountain.
How many people fit in a ski gondola?
Gondolas can usually fit a lot more people than the usual chairlifts, and that is actually a great plus point. If we talk about what the actual numbers are, then a ski gondola can easily fit 10-20 people. It also depends on the size and support of the gondola. But if you have quite a great family or pack of friends, you can end your trip all at once without going for a second.
Are ski gondolas safe and comfortable?
The reason why ski gondolas are even safer and more comfortable than the usual chairlifts is that they can offer you packed cabins and without any openings. The first thing is, you will not have to worry about falling down, and well, losing some of your bones. Besides that, you get ultimate protection from cold breezes from the outside.
It might also seem like a disadvantage to some people, as the environment is what we go there to experience. But the preferences are different for anyone. Other than that, you are provided with a comfortable sofa or leather seats to reach your destination without any problem.
What are the weight limits on gondolas?
If we talk about the weight limits on gondolas, then these lifts offer great feasibility to chubby people too. The limit usually ranges from 200-300 depending on the number of people being carried in the gondola. But still, this limit is good enough for almost anyone, and there won't be any restrictions to use them.
How fast do gondolas go?
There is a common perception among the people that ski gondolas go slower than the chairlifts because of their size, support of the people, and design. Well, if we take a realistic look at the stats, gondolas can go as fast as 35/km per hour. If we compare this speed to the chairlift, then chairlifts can go as fast as 45 km/h.
Conclusively, there is no significant speed difference in both of them that will cost you hours to reach your destination. You might have to lose 10-15 minutes, but it will be worth it if you like the way gondolas work.
How much do ski gondolas and ski lift rides cost?
After checking out all the critical aspects, you might now be wondering how much a single ride of them costs? Well, if you are a skier, then you might have most probably bought a lift ticket. Lift tickets usually include gondolas and ski lift rides, making them free of cost.
But if you have not, both of them might seem really expensive. A single ride of chairlift or gondola can cost anywhere around $10 and $30. There is not a significant difference between both of them, so you can pick any option you precisely want.
Finally, which one should you go with?
After checking out the properties mentioned above, this is the question you should be asking yourself. Well, yes, which one would be suitable? The simple thing is, the whole scenario is dependent on your likings and preferences.
If you love to enjoy natural weather and want to experience utterly cold weather that too with fascinating views directly, then chairlifts would be the best option for you. But if you are not willing to feel cold just yet and want complete protection along with many people around you, then ski gondolas are what you are looking for.
The verdict!
Ski lifts and gondolas can both offer once in a lifetime experience and they can be worth their price. So it is better to decide which model is best for you, and enjoy them. Or you can simply experience them both to have an excellent idea for the future.