A mountain has four sides, and each peak has unique characteristics. The skiing community has given more exact names to the mountain terrains and terms to make things easier. The most common terminology skiers refer to are front-side and back-side skiing. So, what is front-side skiing?
The term "front-side skiing" is for the skiing community, but it does not have a clear definition. For example, areas on the same side as the base or the ski lodge are the front side of the peak. Front-side skiing is easier and straighter than other ski areas. Therefore, it is preferred by beginners mostly.
Each mountain has different sides and unique terrains. However, the mountain areas have virtual front-side and back-side divisions to simplify skiing sports. It helps skiers choose the landscape they want to ski in and spend their day. Read on to learn more about front-side skiing!
Related: How To Properly Layer For Skiing?
What Is Front-Side vs. Back-Side Skiing?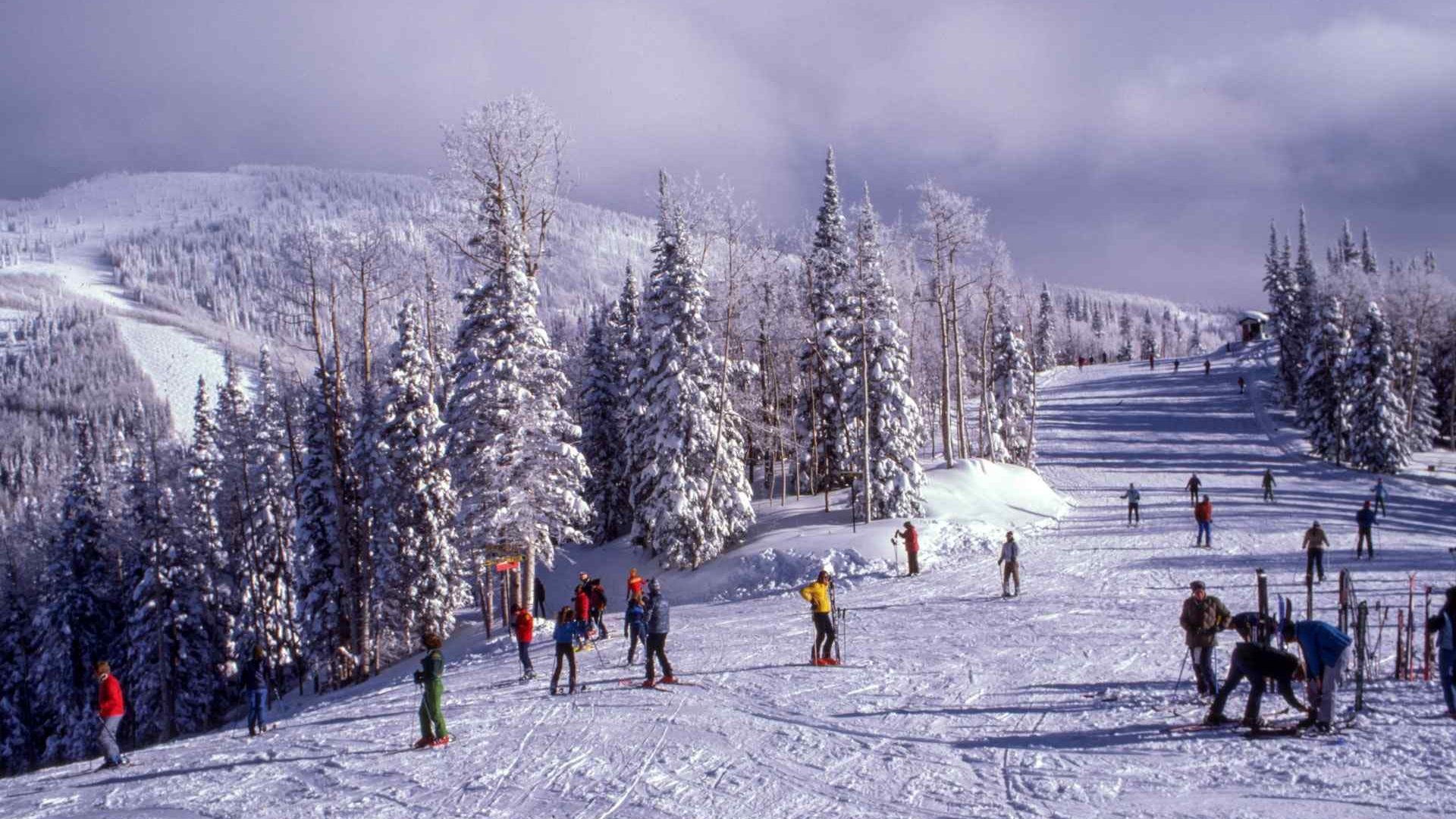 Front-side and back-side skiing are specific styles people adopt according to the terrain they pick for their adventures. Therefore, you can only apply skiing techniques to some areas.
Some areas require front-side skiing, and others require back-side skiing. Here is the difference:
Front-Side Skiing
In the front-side skiing technique, the skier's chest is toward the slope. During this skiing style, the individual first turn their chest toward the hill. Furthermore, a person that prefers skiing on the front side of the mountain is called a front-side skier.
Back-Side Skiing
Back-side skiing is the opposite of front-side skiing. In this technique, the skier turns their back toward the slope first. People that love skiing away from the base of the mountain are also known as back-side skiers.
Who Can Ski On The Front-Side Of The Mountain?
One of the beauties of front-side skiing is that anyone can do it. Unlike higher areas on the peak suitable for experts alone, front-side areas can be accessible by all skiers.
In addition, the terrains present at the base of a mountain are relatively more straightforward than others. Therefore, it makes front-side skiing perfect for beginners and novice skiers.
Front-side skiing will be a great way to warm up for the tricky slopes. You can swish in the wind and get accustomed to the harsh weather near the base before going to the tippy top.
If you are a rash skier, there might be better options than this. You will have to ski with people that have yet to become experts at the sport and will have a slower pace than you.
Enjoying the scenic view, taking deep breaths, and preparing for more brutal tracks are best.
Top 8 Front-Side Skis For Your Trip
Every trip involving sports requires adequate quality gear. You will need the best-suiting skis for your front-side skiing, whether the style or area. A comfortable and durable pair of skis will make your trip ten thousand times better.
So, here is a list of skis you can use for your front-side skiing:

It is quite a remarkable piece of equipment. It provides stiffness with a lightweight. By joining two sheets of metal, the ski is perfect for all skiers due to its high-performance qualities.
Furthermore, its carefully-made front-side skiing structure allows the wearer speed and complete control over their movements.
Rossignol Experience 82 Ti Features
Rating
8.66/10
Length (cm)
160, 168, 176, 184
Dimension (mm)
127-82-115
Diameter (m)
16
It has been in the top 5 on the list of best skis for many years. Blizzard Brahma 88 has a versatility that allows the skier to take sharp turns and cut edges down the way. It is a sturdy metal that helps the skier gain command over the mountain.
It is best suited for intermediate to advanced skiers. Beginners should steer clear of these skis, as they can be too powerful for them.
Blizzard Brahma 88 Features
Rating
7.88/10
Length (cm)
165, 171, 177, 183, 189
Dimension (mm)
128-88-110
Diameter (m)
16
It is a ski set for every player on the mountain. It carries hidden power that experts can tap into but has a softer touch for beginners to learn effectively. It has flexibility that aids in smooth turning.
Furthermore, the material of the skis lessens the effects of bumps on the snow, helping you maintain better balance.
Armada Declivity 82 Ti Features
Rating
7.84/10
Length (cm)
166, 174, 182
Dimension (mm)
128-82-110
Diameter (m)
15.9
The Kendo 88 uses Titanial Frame technology, reducing the metal element in the built ski. It allows the skier more room for playing with the ski at the turn.
Regular ski users say it is best for front-side skiing, as it is easier to maneuver on hard snow at the base. However, intermediates and experts can get a kick out of this baby by unleashing its hidden power.
Völkl Kendo 88 Features
Rating
7.79/10
Length (cm)
163, 170, 177, 184
Dimension (mm)
129-88-113
Diameter (m)
17
This bad boy is perfect for skiers who know what they are doing. It supports high-speed, sharp turns, bumpy rides, and a throttle that will make you fly. MX83 is a perfect match for skiers with solid legs and can command a sturdy ski set.
Kästle MX83 Features
Rating
7.78/10
Length (cm)
154, 161, 168, 175, 182
Dimension (mm)
126-83-112
Diameter (m)
16.3
This one is for the family guy! It is excellent for zooming through short and medium-swing turns. However, the ski tends to get squeamish at high velocity, so it is best to avoid terrains with bigger turns.
Nevertheless, it is well-suiting to cruise the icy landscape with your family and enjoy the beautiful scenic view.
Dynastar Speed 763 Features
Rating
7.68/10
Length (cm)
158, 166, 174, 182
Dimension (mm)
124-75-109
Diameter (m)
15
It is a dependable and durable model of front-side skis. It is stiffer than many other skis, which means it is only for some. However, the ski starts moving with you as you pick up acceleration.
It is best to use these if you are an intermediate or an advanced skier to ensure you can control the ski. It has a unique feature of a raised tail that helps you move smoothly over bumpy snow.
Nordica Enforcer 88 Features
Rating
7.78/10
Length (cm)
154, 161, 168, 175, 182
Dimension (mm)
126-83-112
Diameter (m)
16.3
These skis bend with the will of their rider. If a beginner tries them out, they will be as slow and sturdy as the skier wants. On the contrary, advanced skiers can make the skis fly on the mountain with extreme acceleration.
One area for improvement in this ski is the inability to move smoothly on soft snow. However, it will be a perfect fit for hard snow front-side terrains.
Head Supershape e-Titan Features
Rating
7.68/10
Length (cm)
158, 166, 174, 182
Dimension (mm)
124-75-109
Diameter (m)
15
Final Word
Learning about skiing and its gear before heading to the mountain top will benefit you in many ways. It will help you calm your nerves, boost your confidence, and keep you from harm's way. If you are a beginner at skiing, the front-side style and areas will be perfect for your learning phase. Choose the best-fitting skis and locations for your fun, snowy adventures!