Do you love to ski and would love to introduce your young ones to this exciting winter sport? Worry not; I have your back! I have had a fair share of struggles in finding a pair of ski mittens that would be the perfect choice for my toddlers, and I would love to share my knowledge with you.
The immune system of toddlers is not as strong as ours, and their hands are most often the ones to get exposed to the cold quickly. They are at a high risk of catching colds and flu infections and suffer from hypothermia and even frostbite once this happens.
Therefore, we must best equip them with the right ski gear whenever they venture outside. One of the most important items to consider is your toddler's ski mittens.
Related: Best Ski Balaclavas For Kids
Mittens play a great role in keeping them warm and ensuring that the snow and moisture do not come into contact with their little bodies. This will help avoid the incessant complaints that make your skiing outing a terrible experience.
While there are many ski mitten brands in the market for toddlers, many come with an alluring lower price tag. Unfortunately, this negatively impacts the product quality. I wasted a significant amount of money on such mittens and regretted it. Hopefully, you won't have to go through the same.
On the flip side, I have come across a number of toddler ski mittens over the years that have served my toddlers remarkably well. The ski mittens I will list in this review have been tried and tested by me and my circle of close friends and family members who have toddlers.
I chose these mittens based on their quality, durability, materials used in construction, ease of use, and pricing to help get your toddlers nothing but the best ski mittens in the market. You can trust them to perform well and withstand wear and tear.
7 Best Ski Mittens For Toddlers In 2024
Ski Mittens Or Gloves For Toddlers – What's Better?
Mittens are the best ski solution to keep your toddlers warm during the winter season. This is because mittens are less of a hassle to put on your kids due to their simple design.
Unlike gloves, you do not have to fit every finger into its section. Mittens only have two divisions, one for the thumb and the other for the four little fingers. The small surface area in mittens helps to provide and generate more warmth for your toddlers than when the fingers are separated in a glove.
What mittens lack in dexterity, they compensate in warmth. They come in various designs that help give your toddlers a great grip on their ski poles.
These designs have a separate index finger section which helps improve your toddler gripping skills with the ski pole.
At What Temperature Do Toddlers Need Mittens?
To ensure that your kids always stay warm when skiing, you need to ensure they have ski mittens that offer the right fit so they do not easily slide off their tiny hands.
You should have your toddlers wear their ski mittens when the temperature is at 400F and under.
Here's our list for the very best!
The Kid's Montana ski mitts are designed to keep your kid warm and block any snow or moisture. This is especially important because of how frequently they tend to crash or slip as they learn. These mittens are waterproof and insulated, so you can stay assured that your kids are warm and cozy even under frigid temperatures.
The mittens shell is designed from 100% recycled polyester with a durable water-repellent finish. The palm area is made from a blend of polyester and polyurethane. Your toddlers can easily operate their smartphones because the mittens feature Etip technology on the thumb, making them compatible with touch screens.
The mittens also come with a DryVent membrane that keeps the mittens waterproof while providing a breathable layer to help prevent overheating. Heatseeker Eco and SlaywerWarmth technology are employed in this model to help keep your child nice and warm.
The North Face Kids ski mittens take on the natural shape of fingers, ensuring comfort for your kids. A zigzag stitch with an elastic material adorns the wrist providing a great fit and ensuring that snow does not seep in. It also ensures that the mittens do not easily slide off your young one.
The palm is layered with leather material to provide a great grip on the ski pole. This set of mittens also comes with a pairing clip, ensuring you do not lose them when your toddlers are not wearing them. It also comes with a lifetime manufacturer warranty which is always a great advantage.
Kids can be quite squirmy and fussy when cold or when trying to put some mittens on them; the North Face Kids mittens ensure that this process is quick while ensuring that they stay put even as they roll and slide on the snow. This is a purchase that will guarantee you comfort, durability, and value for your toddlers.
Why Is The North Face Kids' Montana Ski Mitt The Best Ski Mitten For Toddlers In 2024?
Your toddler's safety and comfort are key, especially during winter. You need mittens that are waterproof and insulated to ensure this is achieved.
The Montana kid's ski mittens are excellently constructed to ensure warmth and block any moisture or snow from coming into contact with your child's tiny fingers.
The ski mitts are also designed with breathable material to ensure the hands do not overheat and cause sweat build-up. This is because the sweat if frozen, may quickly result in frostbites which will cause discomfort for your toddler.
What I love most about these mittens is their Etip technology configuration which helps your toddler easily access their smartphone whenever the need arises. This may come in handy in times of crisis.
The mittens also come with a nose wipe feature, which is great for toddlers with runny noses. The pairing clip is also something I greatly appreciate because of the numerous times I have lost a pair of mittens which could easily add up to hundreds of dollars.
The North Face Kids Montana ski mitts are the perfect choice for when you want to hit the slopes with your kids.
These mittens are made from 100% polyester and come with a durable water-repellent finish, making them waterproof. They are also fitted with a DK Dry waterproof insert made of polyurethane, ensuring that your toddler's hands remain warm and dry by blocking out any moisture.
The high loft synthetic insulation increases the mittens' performance since it is able to resist moisture. This material is also lightweight, providing breathability even during warmer conditions.
The palm is made of polyurethane and nylon, ensuring superior durability, comfortable grip, and waterproofing abilities. The mitten features a one-hand cinch gauntlet to keep the mitten in place and avoid the cold and snow. This gauntlet is also adjustable.
The Dakine toddler mittens are also fitted with a fleece material for enhanced insulation. Its high quality helps the mittens withstand wear and tear. The mittens come with a two-year warranty to protect you from any additional costs resulting from production defects.
The HIGHCAMP mitts are made from faux leather, nylon, and polyurethane. Considering how fussy kids can be, these mittens are also fitted with a side zipper. This zipper makes it easy for you to put mittens on your toddlers.
What's even better is that they can secure and put the mittens on themselves with the help of these zippers.
The palm is covered with a non-slip PU material which helps your toddler have a secure grip on the ski pole. These mittens are also waterproof and well-insulated, ensuring your child never gets cold.
They also come with an anti-loss string to ensure that the mittens do not get lost easily!
The mittens are also lined with a breathable membrane that helps keep your toddler's hand dry and warm. The reflected print logo on the mittens creates a fashionable style loved by toddlers and provides safety as it is easily identifiable in the dark.
As difficult as it is, it is important that our toddlers still stay active even in cold seasons. The Burton toddler mittens come in handy during this period. This is because they are waterproof and insulated to protect your toddler against the cold.
The mittens are constructed using a two-layer DRYRIDE laminated fabric which provides breathability making the mittens comfortable for toddlers. This Burton model is filled with synthetic and utilizes Thermacore insulation to help maintain warmth.
The mittens are designed with an extra-long cuff to ensure that snow and moisture cannot seep in. The palm is made of PU leather, which helps provide a firm grip. This also helps to improve the durability and performance of the mittens when skiing.
Brushed microfiber lines the mittens, wicks away moisture from your toddler's hand, and provides ultimate comfort. It is also designed with additional vent pockets, which help keep your toddlers' hands warm and toast. This is the perfect recipe for a happy child on a ski outing.
The Burton toddler mittens are user-friendly due to the zipper fitted on the sides, allowing easy wear and removal. They also have an internal name tag that ensures they do not get lost easily, as they can quickly be traced back to the owner.
These mittens also come with a one-year warranty, which you should always look out for because it assures you of quality and financial protection in case the mittens get damaged due to poor quality.
The Burton toddler mittens also have an ergonomic pre-curved fit, providing a natural fit on the hands. What I love most about these mittens is that they are compatible with hand warmers which helps provide your toddler with a fun experience while outside.
N'Ice Caps is a trusted and well-reputed brand with over 30 years of experience dealing with harsh winter conditions and understanding the need for a quality pair of mittens for your toddlers.
These mittens come in various color options and patterns, which is always fun for kids.
They are made from 100% polyester and are designed with a large flap that helps you put them on your toddler without too much struggle. The wrist area is also fitted with an elastic to help with this while providing enough hand mobility for your toddler.
The hoop and loop closure on these mittens also ensure that your toddlers do not easily lose them when they crash or are busy throwing snowballs. The N'Ice Caps toddler mittens are waterproof and well insulated using 3M Thinsulate for added warmth and comfort.
The mittens are fitted with grippers on the palm and thumb area, which make them perfect for skiing. You can always tuck in the extended cuff into your toddler's ski jacket for added comfort.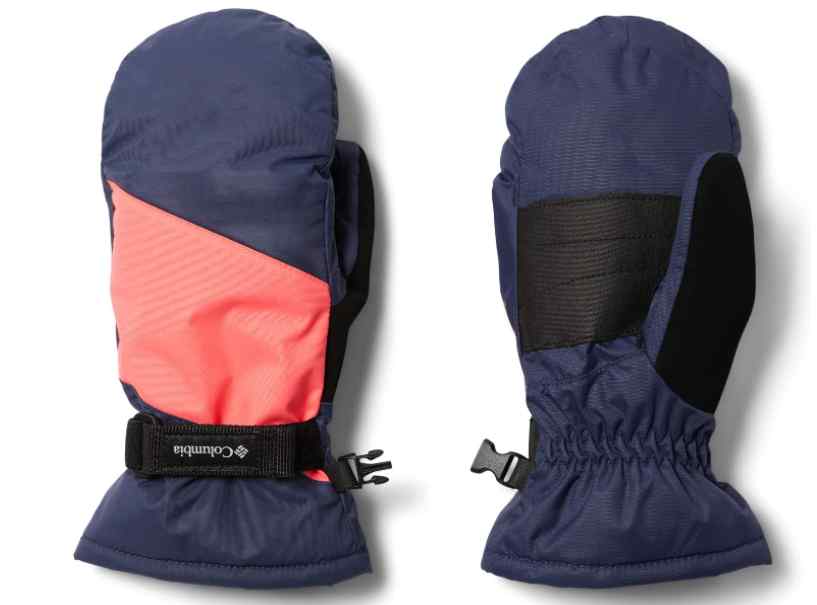 Available in various color options, these mittens are Omni-tech waterproof. They are designed to be breathable, achieving extra comfort for your toddler. The three-point pre-curve on these mittens offers better grip and dexterity for your toddler, which is essential when skiing.
The palm is made using durable PU material, providing longevity and value for the product. The nose wipe feature on the thumb makes it user-friendly, especially for toddlers, as a runny nose during winter is common.
The Columbia child core mittens are designed with a hook and loop webbing, which helps to secure the gloves properly to avoid them coming off when the child slides. The pull tab at the cuff also comes in handy for this.
These mittens are also compatible with touch screens and feature a cozy gauntlet which is an added feature your toddler will appreciate. This is because it helps to offer extra warmth. They are, however, the first mittens on this list not to factor in the possibility of a loss of the mittens.
These mittens are sure to provide overall comfort and protection to your toddlers from harsh winter conditions. If you are on the hunt for unisex, quality toddler mittens, then the Columbia unisex child core mitten is the perfect choice for your toddlers.
These mittens are made from a blend of polyester and cotton, which provides a warm and cozy feel. They are insulated with 150g Thinsulate, ensuring that your kids' hands stay warm and dry.
The mittens are designed with a long cuff with elastic closure. This helps the mittens cover your kid's jackets and block the snow. The mittens are very soft and comfortable to wear.
The palm and thumb are reinforced PU material and have undergone anti-hydrolysis to improve durability and prevent cracking. The mittens also come with a durable water-repellent nylon fabric and are lined with TPU membrane inserts. This helps to wick out moisture, ensuring that your kids have fun even during winter.
The HOIHOO mittens are adjustable and elastic for added warmth in case the weather changes. Connected clips and anti-loss hanging string ensure that your kids' mittens do not get lost. They also come with reflective stripes, which act as a safety precaution to help notice your toddler in case of any danger.
What I love most about these mittens is the brand's fixation on customer satisfaction. They upgraded the mittens to cater for touch screen compatibility, which is a feature I highly appreciate. I recommend these mittens to all parents with toddlers.
They are perfect for almost all winter sports.
How To Choose Toddler Mittens For Skiing In 2024?
Kids tend to choose their mittens based on color and fancy reflective logos; there may be better ways to determine what mittens to purchase. It is only right and fair that the mittens you choose for your kids can provide comfort, warmth, and safety when they go out to ski.
The different mitten options I have outlined in this review are excellently constructed and sure to provide value. While it may be overwhelming to sift through the different toddler mitten brands in the market, the factors I will list below will help you narrow down your options and settle only for the best.
Value
It is important that you purchase mittens that provide flexibility in terms of growth. You do not have to dig too deep into your pockets to purchase a quality pair of mittens for your toddlers. You want to spend only a little cash on a mitten that your child will quickly outgrow.
Waterproof
Children love to throw snowballs and play on the snow when outside. Choosing mittens with waterproofing capabilities will help your toddler to play comfortably in the snow.
There are varying waterproof properties. You must carefully research the waterproof technologies used to ensure that the mittens do not let in moisture and snow after a while. This may lead to frostbite, which will cause discomfort to your child.
Comfort
Toddlers can be fussy in extreme weather conditions. The mittens should be lightweight and do a great job of protecting them from cold weather. Toddlers will try and remove the mittens if they are uncomfortable. This will leave them exposed to the cold, which is not ideal.
Warmth
The primary function of mittens is to provide warmth. You must pick mittens that are lined with material that provides insulation for your toddler. I recommend wool and synthetic material because they are waterproof and have moisture-wicking properties.
They can lock in warmth while still allowing your skin to breathe. You must steer clear of cotton material because it is prone to absorbing water and is a poor heat retainer.
Purpose
Casual playground dates at school cannot be compared with full-throttle winter ski days on the mountain. You need some durable, high-quality mittens for skiing.
Setting aside different mittens for different functions also helps increase longevity and, over time, helps you to save money.
Durability
Although having a few pairs of cheap mittens in your ski gear stash is great, they could be better if your kid spends most of their time skiing. You will need mittens that are tough and built to withstand wear and tear.
Grippers on the palm area and reinforced mitten material are perfect in helping you achieve this. You should look out for these features in order to enjoy value for your money and avoid unnecessary costs.
Cost
Mittens vary in price from cheap to high-end, depending on your budget. It is, however, important to keep in mind that these ski accessories tend to get lost frequently.
Splurging a huge amount of cash on a bright-colored mitten only because your toddler loves the print will not be wise.
Shell Types
The outer layer of your mitten is as essential as the inside. While some are made of a durable water-repellent membrane, others are designed using a breathable membrane that provides extra insulation.
The best option is dependent on the weather conditions in your area. For toddlers, a warm shell is better, but if you live in a wet area, then a waterproof shell may be your best choice to ensure that your toddler's hand remains warm and dry.
Breathability
Pick mittens that are designed with breathable fabric work to wick away any moisture and ensure that your hands stay dry. This will help protect your toddler from frostbite and cold. A breathable mitten is great for all seasons and provides you with value for your money.
Ease Of Use
Every parent appreciates a piece of clothing or accessory that can be worn easily to cut out the tantrums caused by toddlers. They should also be easy to remove. Your kids should be able to have a firm grip on the ski pole with the right pair of ski mittens.
Additional Features
There are many features that can help to improve your toddler's mitten performance with ease. Features such as vents, zippers, gauntlet, and touchscreen compatibility greatly maximize comfort, warmth, and safety for your young ones.
How Do I Stop My Toddler From Losing Mittens?
Here are tips to help you avoid the hassle of looking everywhere for mittens your child misplaced after the last ski trip.
Mitten Clips
These are very handy in ensuring that your kids do not lose their mittens. You only have to attach one end to their jackets and the other to the mitten. Toddlers cannot pull them off, which helps save you the headache of looking everywhere for mittens and save on cash used to buy a pair of mittens every time.
Twine
If difficult to find, try and get any piece of string or yarn. It should be equal in length to your toddler's wingspan. Tie the string to both mittens. Make a small hole and a knot to be able to achieve this.
Pull the string and mitten through both coat sleeves, and no matter how precarious your toddler is, they will not be able to lose them.
Buttons And Elastic
I love this method because it sticks and is more long-term. You will need to sew on a piece of elastic to the inside of your toddler's coat and sew on a button on the edge of each mitten.
Make a button-sized hole on the end of the elastic, and you are done. You can attach the mitten by pulling the button through the hole, just like a buttoned shirt.
Frequently Asked Questions
What Size Are Toddler Mittens?
Different brands offer different mitten size charts on their website. However, though the sizing is accurate for many toddlers, it may not be the correct fit for your toddler. This is because their hands' shapes and sizes are different.

I always recommend you go to a local store during purchase to avoid return processes if you get the wrong-sized mittens.

You do not want to get a bulky pair of mittens for your child or one too small for comfort. To find mittens that perfectly fit your toddler, you will need to measure your toddler's hand.

To do this, you must measure the length between the tip of the middle finger and the wrist or the widest area of the palms. You can then consult a size chart from the brand you wish to purchase from to get the correct sizing.

Can Kids Ski In Mittens?
Yes, toddlers can ski in mittens. They offer them the necessary warmth to ensure they are protected from the cold and that you do not have to deal with grumpy children on a ski outing.

The models I have listed in this review are designed to have a natural hand shape and offer a great grip on the ski pole.

Why Do Toddlers Need Mittens?
Toddlers wear mittens for a range of reasons. Most importantly, however, this accessory helps keep them warm and well-protected from the cold. Their hands are very sensitive to weather fluctuations, and it is essential that they always stay comfortable.

Mittens are also great in helping them avoid touching dirty surfaces and becoming prone to infections. It blocks them from sticking dirty fingers into their mouths, which may be filled with germs and bacteria. It is a really great solution for every parent.

Wrapping Up
You must get your toddler mittens that maximize comfort so that they can enjoy their time on the slopes. Mittens that are well-insulated, waterproof, and user-friendly will play a great role in ensuring that your kids stay safe and protected.
This review of the top 7 best toddler mittens is one you can trust, as I have personally tried and tested these models on my kids, and they have loved them.
Do not shy away from investing in the best quality mittens for your kids, as they will provide you with value and serve you longer. Whichever model you pick from this list, you and your family will have a blast on the slopes.
Happy skiing!