On the face of it, balaclavas may seem like a minor deal. Ideally, we give much of our attention to the other noticeable gear like helmets, gloves, jackets, boots, and pants. However, this small piece of extra clothing can significantly support our adventure. In this article, I have listed the Top 7 Best Balaclavas for Snowboarding in 2024.
There are some compelling reasons why we should wear a balaclava while snowboarding. The unwanted cold weather is the one thing we all want to fight while snowboarding. The balaclava can provide an extra layer of protection when it comes to providing warmth.
Adjustable balaclavas can be used per our needs and prevailing conditions. The balaclava makes it easier to fit helmets into our heads and provides better comfort. The more breathable balaclavas provide better ventilation and allow the hot air to escape freely, reducing fog formation on the goggles.
Related: How To Wax Skis Without An Iron At Home
There are many more factors that we need to take into consideration while deciding our next balaclava. The material quality of the balaclava plays a significant role not just in the quality of the product but the overall warmth and comfort that the product eventually delivers.
Other additional features like waterproofing, soundproofing, and the design element that we need to consider while going to the market. The only thing that confuses us is the sheer variety of products that are available in the market. The ultimate choice has to be personal and based on self-comfort.
7 Best Balaclava For Snowboarding In 2024
With my experience and after doing thorough research, these are my choice for the Top 7 Best Balaclava for Snowboarding in 2024.
Also read: Types Of Skis: Which One Should You Buy?
My choice for the best overall balaclava has to go to the Smartwool Merino Sport Fleece hinged balaclava. This is one of the most versatile, functional, and comfortable balaclavas on the market. Right from its material to its overall performance, the Smartwool balaclavas excel in all departments.
The Smartwool balaclavas are made from soft-brushed Marino wool material, which feels soft on the skin and provides adequate protection from the cold breeze during snowboarding. There are slight polyester elements attached to the balaclavas, which provide an adequate balance between comfort and protection.
The balaclavas support a simplistic design that looks very minimalistic yet very practical. The top of the balaclavas is hinged, and that can be easily pulled back for extra venting.
The hinged support also allows the rider to adjust the peripheral vision according to the need. The fleece-hinged support allows the rider to pull the top up as things get colder and pull it down as it starts to heat up. This kind of smooth adjustability makes it really effective in delivering the best snowboarding experience.
The other feature that this balaclava comes with is its breathability. Thanks to the Merino wool 150 fabric finish, this balaclava has the capability to not only provide sufficient breathability but also deliver a superior temperature-regulating experience.
The Smartwool balaclava is highly reliable and made to last for a long duration. This perfect balaclava will help us sail through our winter activity with ease.
Why Is The Smartwool Fleece-Hinged Balaclava The Best Balaclava For Snowboarding In 2024?
There are many reasons why the Smartwool Fleece-hinged balaclava tops the list. This is the perfect companion in testing conditions. If we are looking for a balaclava that provides adequate warmth and also comes with a decent amount of practicality, this is a perfect choice.
The primary material is Marino wool. It has about 44% polyester mix, which makes the fitting of the balaclava better. The on-to-skin design of the balaclava makes it ideal for cold conditions.
The overwhelming aspect of the balaclavas which make it great is the presence of hinged support that works great. The simplified approach makes it easy to adjust accordion to the conditions. Another feature that is noteworthy is the provision of reflective elements on the balaclavas. These reflective elements provide additional security and keep us visible on nighttime rides.
The excellent breathability, comfort, and extremely competitive pricing make the Smartwool fleece-hinged Balaclava the best balaclava in 2024.
Related: Best Mogul Skis For The Season
If there is one brand that has set the standard when it comes to performance and resilience, it has to be Blackstrap. Their Blackstrap hood balaclava delivers a perfect product that makes it stand out as a worthy alternative to the Smartwool Merino Sport Fleece Hinged Balaclava.
The Blackstrap hood balaclava is manufactured using a patented Tri-Blend synthetic fabric with quick drying potential. The balaclava has an ergonomic design that fits perfectly. The dual layer exo-hinged neck and face deliver excellent wind resistance. The backstrap hood balaclava is made using a single-layer material that provides excellent compatibility with most helmets.
The single-layer finish maximizes heat and moisture management to give us an exceptional experience. The superior 4-way stretch synthetic material provides breathability, is safe for lens, and has moisture-wicking capability. The hood of the Blackstrap hood balaclava is UPF 50+ (UV) rated for added protection.
The Rockbros cold weather balaclava comes in highly affordable yet delivers great performance. This is the right choice if we want a highly affordable balaclava with decent features. The fabric is made using 100% polyester, which provides good insulation.
We must not expect it to deliver outstanding warmth under challenging conditions, but it does its job well in simple conditions to its credit. Thanks to its thermal fleece, the balaclava is able to deliver a good amount of warmth.
The other feature that stands out is the superior protection that the Rockbros balaclava is able to provide. It can adequately protect us from cold wind and dust. It even comes with a UV protection filter. These balaclavas fit perfectly with any helmet and are incredibly lightweight. These balaclavas are highly adaptable. These can be used not only for snowboarding but also for other sports like skiing, snowmobiling, or cycling.
The Rockbros weather balaclava comes in seven different attractive color combinations. This feature might not mean a lot to some, but for someone like me, for whom aesthetics means a lot, this provides a great choice.
The balaclava provides a smooth finish from the inside and feels soft on the skin. It has a superelastic material that allows it to fit into most heads. The price of these balaclavas and their quality make them the best affordable balaclavas in the market.
The next balaclava that I want to discuss is the Tough Headwear balaclava. These are one of the highest-rated balaclavas on Amazon and have been a favorite among snowboarders. These are lightweight and manufactured with a mixture of polyester and spandex. The incredible design gives the balaclavas a moisture-wicking capability along with good breathability.
The Tough Headwear balaclava is highly comfortable, sporting a flexible design. It makes it adjustable to different conditions and is compatible with most helmets.
The balaclava can easily fend off cold wind and dust. It comes in with UV ray protection. It has all the essential features to get us through some of the most challenging conditions. The most critical thing when it comes to a balaclava is its warming potential. This Tough Headwear does not disappoint in this regard. The 4-way stretch fabric gives the balaclava a distinct snugness, which allows us to keep ourselves warm throughout our activity.
Its polyester-spandex material, along with the breathable, moisture-wicking fabric, allows it to trap the heat, keeping us dry and cozy all along.
The balaclava comes with dedicated hinged support for better adjustability. It perfectly fits into any helmet. It also helps us adjust the balaclava as a full face mask, open balaclava, or neck gaiter. This level of versatility makes the balaclava one of the best to buy.
It also supports a mesh breathing panel that increases the airflow while reducing the condensation on our goggles and helmets. This makes it a perfect choice if we look for a mask that keeps us warm and improves our visibility.
This is another fantastic option that comes from AstroAI. This product has stood the test of time and won over the customer's trust through sheer hard work and performance. It provides a good balance between price, comfort, and performance.
These AstroAI balaclavas are manufactured using an excellent polar fleece material. It provides extra warmth in the most challenging conditions, enhancing our overall experience. The fabric feels soft on the naked skin. It comes with a 2-way stretch fabric that helps our face fit perfectly into the balaclava.
The AstroAI comes with an insulated mesh buildup that is highly breathable and protects against fogging up of goggles. There should not be any complaints about the stitching of the mask. It can provide a long duration of support on the trail. The balaclava comes with a lot of options for adjustability features. It can be used as a full face mask and has a considerably long neck extension that protects the neck from unwanted cold winds.
AstroAI claims that their balaclava can easily withstand a temperature of -30 °F. It also comes with UPF50+ certification to protect us from the harmful ultraviolet radiation emanating from the sun. The quick-drying technology, along with the moisture-wicking capability, makes this a compelling product.
This is another fantastic product from AstroAI. It comes in a fully ergonomic design and is exceptionally lightweight. The delicate stretch fleece built of this balaclava makes sure that it can offer great warmth in icy situations. The fabric feels soft and non-irritating on the skin. There are no noticeable complaints about pilling, deformation fading, or odor.
The highlight of this balaclava is the ability to restrict fog formation on the goggles. Fog formation is a time-tested problem for any winter activity, and this balaclava seems to do well in negating the issue. This property makes it the perfect choice for snowboarding and any winter sport.
The other issue that bugs me as a rider is cold water and wind getting under the skin. Thanks to the AstroAI waterproofing system, it not only provides us with better waterproofing but also helps us negate cold wind, dust, and snow.
The AstroAI comes with the same signature long neck fabric, which protects us from the cold wind. The face and neck area has a 3-layer composite wind and water-protection fabric that prevents unwanted water and wind while trapping the heat. The 4-way stretchable material gives us adjustability and fits, providing fantastic warmth and excellent comfort.
The AstroAI supports a ton of different styles. It can be worn as a full-face mask, open balaclava, half mask, hoodie, or neck gaiter. This feature is beneficial when we want our balaclavas to have additional utility. The mask is helmet and goggles-friendly.
The features that AstroAI present are genuinely remarkable. They are not only robust in their performance but also in their build quality. This balaclava has it all and has made it to our wishlist!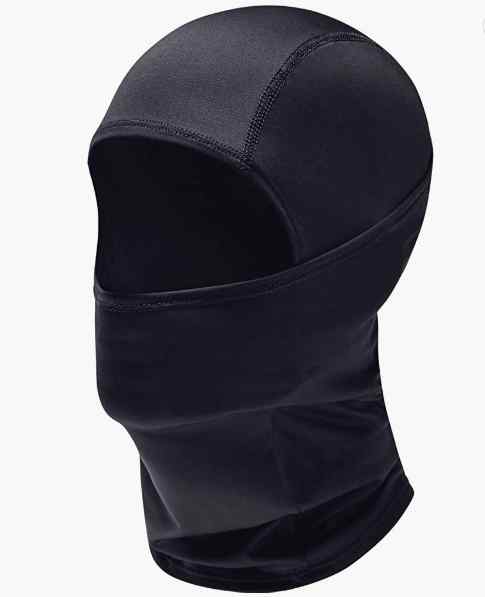 The Under Armour Unisex-Adult Heatgear is the last balaclava I want to discuss. This can be the perfect alternative to all the above-mentioned balaclavas. This is made using polyester material. The mask provides excellent warmth and protection. It provides full protection to our head and neck and our entire face. The stretch below the neckline provides extra coverage and protection from cold wind and snow.
The Under Armour Heatgear come with a 4-way stretchable fabric that makes it flexible and, thus, can be adjusted into any face, helmet, or goggles. The other feature that really impressed me was the quick-drying potential of the balaclava. It has the potential to wick moisture quickly, thereby providing better long-term comfort.
The only issue that I have with the balaclava is the material. The 100% polyester build is highly flammable and poses a severe risk of injury when exposed to extreme heat or flames. We need to be cautious for that reason. Overall, the Under Armor balaclava provides a great alternative we can choose for our everyday rides. They come in with impressive specs and provide adequate comfort.
How To Choose The Best Balaclava For Snowboarding In 2024?
Choosing the right balaclava is not that difficult, provided we check some important factors. I have listed the factors that are essential when it comes to a perfect balaclava.
Material
The most crucial factor we need to consider while choosing our new balaclava is its material. The main reason why we choose a balaclava in the first place is to generate warmth. Warmth can be generated only when the material of the balaclava is proper. The most recommended material is Merino wool. The products made of Marino wool generate excellent warmth, and they feel soft on the skin.
There are balaclavas made of polyester and spandex. Most of these come with inner liners that provide warmth, but the quality of warmth as provided by merino wool is perhaps not found. They can, however, provide better durability. Nylon and Neoprene are good materials that are lightweight.
The choice should depend on our individual preferences.
Design
When we go out to the market, we get acquainted with different balaclavas. It is significant that we understand the different models out there. There are some that cover our entire face and neck. There are some that have long neck extensions. There are other options that go just over our mouth, while some have hinges that allow us to move the veil up or down according to our needs.
The design we should go for should be based on our riding style and the conditions we often ride. For someone like me, who likes to experience different conditions, a much more adjustable or convertible balaclava would be better.
There are designs that come with better compatibility with helmets or goggles.
Waterproofing
This is yet another critical factor that we should look for in a new balaclava. We cannot predict the weather, and thus we should be well prepared for the inevitable. There are several good quality balaclavas that not only provide better waterproofing but also come with excellent wind and dust resistance.
Breathability
We would not feel comfortable wearing a balaclava that does not provide better breathability. It would lead to suffocation and, much worst, it might lead to poor visibility. The better-built balaclavas come with small perforations that let the cold air come in and lets out the warm air. It prevents the fog from building up on our goggles.
Frequently Asked Questions
What Are Some Common Issues That People Face When Using A Balaclava For Snowboarding, And How Can They Be Addressed?
Some balaclavas might make it challenging to adjust our helmets. If our helmet is of perfect size, wearing a thick balaclava might make us highly uncomfortable. Replacing and choosing a thin balaclava should do the trick. At times, wearing a balaclava that does not cover the head might also work.

Having a balaclava that doe snot support better ventilation and breathability might lead to fog formation on the goggles or helmet visors in the case of full-face helmets. Buying a breathable balaclava with better perforations should do the trick.

The other issue can be odor generation due to excessive usage. Washing our balaclava regularly should be the way to go.

Are There Any Special Care And Maintenance Tips For Balaclavas Designed For Snowboarding?
As the balaclavas stay in close contact with our skin, they need extra care. Without proper care, they might feel stinky or release odor. Going for a ride with that stinky odor on our faces is not advisable. We must wash our balaclavas frequently to have a perfect snowboarding experience.

While washing, we must make sure we wash it gently in warm water. Hand-washing the balaclavas is the best way to ensure they last longer.

Can Balaclavas For Snowboarding Be Used For Other Activities, Such As Skiing Or Hiking In Cold Weather?
Yes. Most of the balaclavas we have discussed can be used for different winter activities, such as skiing, hiking, and snowmobiling. Their sole purpose is to provide warmth by trapping heat and deflecting the unnecessary cold wind and snow.

The more expensive balaclavas come with waterproofing capability. Whether we want better protection or an extra garment hanging around, the ultimate choice has to be made.

How Do Balaclavas For Snowboarding Differ From Regular Balaclavas Or Ski Masks?
There are not a lot of differences when it comes to balaclavas for snowboarding and regular balaclavas. The balaclavas for snowboarding need to be full-faced balaclava that fits perfectly to the helmet. Regular balaclavas can come in different form-factor.
Conclusion
We have discussed the Top 7 best balaclavas for snowboarding in 2024. Here let us recap some of the best features of the balaclavas we have listed above.
The Smartwool fleece-hinges balaclava is the best overall balaclava. It comes with all the important features that we need. The balaclava is made of merino wool, which generates adequate warmth. The breathability of this balaclava is also excellent. The hinged support ensures we can adjust the opening as per our requirements.
The runner-up is the Blackstrap hood balaclava, made out of patented tri-blend fabric. It supports excellent waterproofing and wind and dust resistance. It is also certified as lens safe. The balaclavas come with UVA 50+ protection.
The next balaclava is the Rockbros cold weather balaclava, the best affordable balaclava on the list. Apart from being value for money, it does come with good specs. It supports a polyester build with inner thermal fleece for added warmth. The Rockbros balaclava is lightweight and comes with UV protection.
Another balaclava that we talked about was the Tough Headwear balaclava. It is convertible and lightweight. It comes with 4-way stretchable fabric. It is adequately equipped to protect from rain, snow, wind, and dust. I have then detailed two famous balaclavas from the AstroAI brand.
The AstroAI balaclava is breathable and possesses a long neck extension. They are absolute value for money. Under Armour Unisex-Adult headgear balaclava is the last product that I talked about. It provides excellent warmth, is highly flexible, and comes with a long neck extension. The only issue that I have with it is the polyester material.
Through this article, I have highlighted to our readers the top balaclavas available in the market. I would want our readers to choose the best balaclava for their adventure. The key to choosing the best balaclava is our own preferences and comfort. Whatever the price, it's of no use unless it feels comfortable.
Comfort can only be achieved by choosing high-quality material that fits well. Moreover, our particular needs must be kept in mind while making a choice. Personally, I like a balaclava that has hinged support. It allows me to adjust the opening as per my requirement.
I hope that through this article, our readers have been able to make up their minds and have been able to choose their first or next balaclava.